​Starting in 1999 as a website development and management business designing websites for small businesses and non profit organizations as well as managing websites for world renowned institutions of higher learning and one of the top medical schools in the world. This is our pedigree.

Mac Productions is comprised of two (2) business units. Our Cloud Based Solutions Group or CBS is a leading technology provider of cloud based services ranging from website design, website hosting, website maintenance and management. Our Business and Consumer Solutions Group or BCS is Master Distributor with 18 years of experience in commercial and residential solutions that span entertainment, energy, security, home and office automation, financial services and IT services. Offering end-to-end solutions for customers across the SMB, Consumer and Non Profit markets.
T: 1.888.415.8882 | F: 1.888.611.8821
Powered by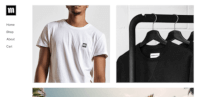 Create your own unique website with customizable templates.